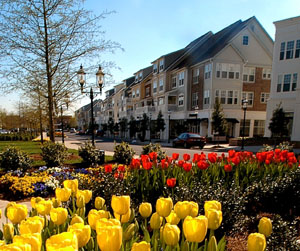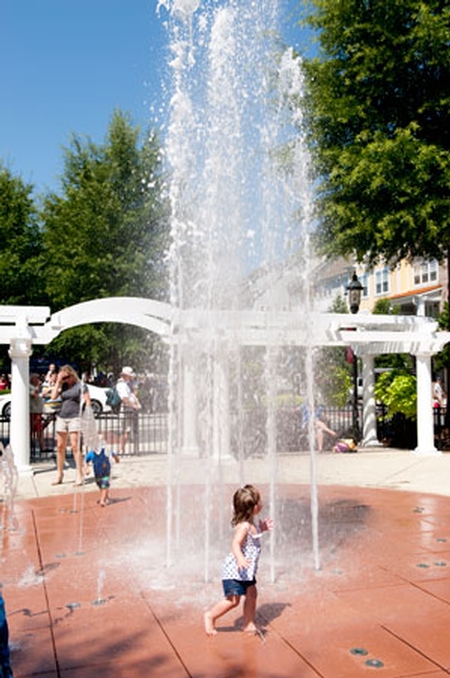 Birkdale is a new, fun, urban mixed use community twelve miles north Charlotte in Huntersville, NC.  Birkdale features many wonderful restaurants, stores, cafes, apartments, town homes, and houses. There is also a gym, a movie theater, a supermarket, a golf course, a greenway, an express bus park and ride, and Lake Norman are all within walking distance for the residents of Birkdale Village.  The town center in Birkdale functions as the hub of the 800-acre new town that includes 4 communities of 2000 single-family homes and town houses. Included within the town center are retail and incidental office space, as well as 340 units of multi-family housing.
The center in Birkdale is reminiscent of an older village with the retail shops and eateries on the street level and the apartments above but yet everything is newly built. Its so enjoyable to take a leisurely stroll through the town center with the outside patios for the restaurants and boutiques as well as high end retail shops. Many nationwide notable name chains are among the local boutique style shops. A wide variety of restaurants makes it easy to find some tasty treat to fit your palette no matter what your budget.  Often there are art or craft shows to take in as well. There is a quaint gazebo and ample benches for  relaxing in the town center. Parking is plentiful although much of it hidden in keeping with the aesthetics. The walkability of living in Birkdale makes it a place to be for the younger twenty somethings as well as a wonderful place to live for the more seasoned generations.
Please take the opportunity to call me at 704.380.0838 to arrange a visit to this wonderful neighborhood and see for yourself if  Birkdale is the right fit for you.